Home of the first link on earth to route IPv6 via AX.25!
Your hostname is: ec2-54-81-71-68.compute-1.amazonaws.com, Your address is: 54.81.71.68
This site is Dual Stacked! Quick node stats:
61 up, 1 possibly down, 12 down, 2 unreachable

See our IPv6 hosts.
Broker an IPv6 ip from N1URO.
IPv6 Tools - great info!
Linux configuration information - MUST READ!
Get URONode from SourceForge
Get axMail-FAX from SourceForge
URONode/axMail-FAX email list, sign up here!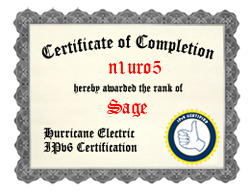 Our hits: